It's no secret that pairs of the Air Jordan 1 "Metallic Blue" are currently on super sale at most retailers. But don't let that lead you to believe that sale shoes equate to bad shoes. Often times the ebbs and flows of cultural interest toss historic releases to the waist side. Hopefully that won't happen with the Air Jordan 1 "Metallic Red" release next month.
Next weekend, on its May 6 Jordan Release Date, this famed gem from the often forgotten 'Metallic Series' will make its less-than-celebrated return to retailers. Its smooth white leather base is finished with red patent leather accents gleaming at the Swoosh and ankle collar. A matching red outer caps the look of this storied OG finally back for the first time.
Will you be picking up the Air Jordan 1 "Metallic Red" next weekend? Pairs will be available at select retailers like Feature.
Air Jordan 1 Retro High OG "Metallic Red"
Colorway: White/Metallic Red-White

Style #: 555088-103

Release Date: May 6, 2017

Price: $ 160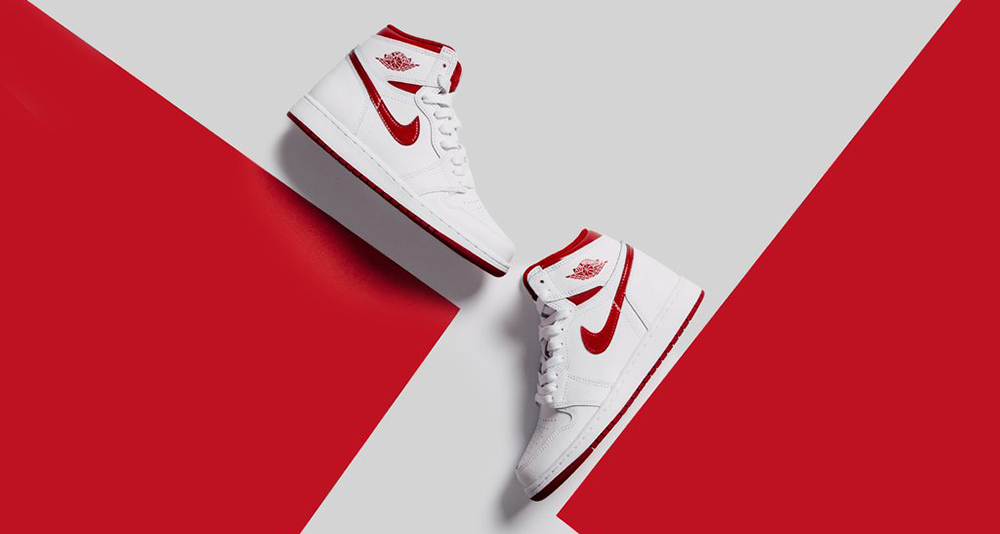 The Air Jordan 1 "Metallic Red" is a Must-Have Summer Shoe
%20%20%20%20%20%20%20%20%20%20%20%20%20%20%20%20%20%20%20%20%20%20%20%20%20%20%20%20%20%20%20%20%20%20%20%20

%20

%20%20%20%20

%20

%20

%20

%20

%20Use%20the%20Web%20Share%20API%20to%20share%20%20content%20to%20200+%20supported%20destinations.%20

%20

%20100%%20free%20to%20use,%20reliable,%20fast.%20Used%20by%20millions%20every%20day.%20

%20

%20

Get%20More%20Traffic

%20

Enable%20your%20visitors%20to%20share%20articles,%20comments,%20purchases%20or%20other%20activities%20from%20your%20site%20to%20their%20friends%20on%20multiple%20social%20networks.%20You've%20already%20got%20customers%20that%20love%20your%20product%20or%20service.%20Profit%20from%20helping%20them%20tell%20the%20world%20about%20it.%20The%20Share%20API%20is%20free%20to%20use,%20and%20helps%20you%20grow%20your%20bottom%20line%20and%20traffic%20without%20growing%20your%20marketing%20budget.

%20

Share%20API%20Documentation

%20

Shareaholic%20provides%20social%20APIs%20to%20connect%20your%20site%20or%20application%20to%20each%20of%20the%20major%20social%20networks%20for%20sharing.%20If%20you%20can't%20use%20the%20Shareaholic%20JavaScript%20SDK,%20you%20can%20link%20to%20these%20API%20endpoints%20directly.%20With%20these%20APIs%20you%20can%20customize%20the%20social%20sharing%20experience%20for%20your%20users%20to%20match%20the%20look%20and%20feel%20of%20your%20site%20or%20application.

%20

Designed%20for%20Ease

%20

All%20API%20methods%20are%20accessible%20via%20simple%20HTTP%20calls.%20We%20have%20optimized%20for%20ease%20of%20implementation,%20so%20you%20won't%20see%20anything%20complicated.%20Most%20implementations%20of%20this%20API%20take%20less%20than%2015%20minutes%20to%20setup.%20Simply%20hit%20the%20provided%20URLs%20with%20their%20respective%20parameters,%20and%20you're%20done.

%20

Getting%20Started:%20Authentication

%20

All%20API%20endpoints%20require%20authentication%20credentials%20to%20be%20supplied%20as%20query%20arguments.%20To%20get%20started,%20you'll%20need%20a%20free%20Shareaholic%20user%20account%20and%20Site%20ID.%20Signup%20for%20an%20account%20and%20then%20add%20your%20site%20to%20get%20your%20Site%20ID.%20The%20Site%20ID%20is%20your%20API%20Key.

%20

Example:

%20

%20

...&apikey=8943b7fd64cd8b1770ff5affa9a9437b&...

%20%20

%20Note:%20the%20apikey%20used%20in%20this%20document%20is%20intended%20for%20use%20as%20an%20example%20only.%20

%20

Share%20Content%20with%20over%20200+%20(and%20growing!)%20Destination%20Services

%20

Let%20your%20users%20share%20content%20from%20any%20website,%20desktop%20app,%20mobile%20app,%20etc%20to%20any%20supported%20destination%20service.

%20

Endpoint:

%20

https://www.shareaholic.com/api/share/?v=1

%20

%20

| Parameter | Description | Required | Example |
| --- | --- | --- | --- |
| v%20 | API%20Version%20 | Required%20 | v=1%20 |
| apitype%20 | API%20Type%20 | Required%20 | apitype=1%20(1=Redirect,%202=Pingback,%203=1x1%20pixel)%20 |
| apikey%20 | API%20Key%20 | Required%20 | apikey=8943b7fd64cd8b1770ff5affa9a9437b%20 |
| service%20 | Destination%20Service%20 | Required%20 | service=7%20(lookup%20codes)%20 |
| link%20 | Link%20 | Required%20 | link=http://www.yoursite.com%20 |
| title%20 | Page%20Title%20 | Optional%20 | title=My%20Awesome%20Webpage%20 |
| notes%20 | Notes%20 | Optional%20 | notes=I%20love%20this!%20 |
| short_link%20 | Shortened%20Link%20 | Optional%20 | short_link=http://bit.ly/1OTIqm%20 |
| shortener%20 | URL%20Shortener%20 | Optional%20 | shortener=shrlc%20(tinyurl|bitly|jmp|google|shrlc|none)%20 |
| shortener_key%20 | URL%20Shortener%20Credentials%20 | Optional%20 | shortener_key=shareaholic|R_83932e4c5d02d1f94aea0f40fbc557ec%20 |
| template%20 | Template%20 | Optional%20 | template=Reading:%20${title}%20 |
| tags%20 | Tags%20 | Optional%20 | tags=programming,python,howto%20 |
| source%20 | Source%20 | Optional%20 | source=shareaholic%20 |

%20%20

Working%20Example%20(posting%20a%20link%20to%20Facebook):

%20

%20

<a%20href="https://www.shareaholic.com/api/share/?v=1&apitype=1&apikey=8943b7fd64cd8b1770ff5affa9a9437b&service=5&title=The%20Hottest%20VC%20No%20One%20Has%20Ever%20Heard%20Of&link=http://www.robgo.org/post/376467064/the-hottest-vc-no-one-has-ever-heard-of&shortener=google&source=Shareaholic"%20target="_blank">Post%20to%20Facebook</a>

%20%20

Give%20it%20a%20try:%20Post%20to%20Facebook%20

%20

Notes:

%20

%20
link,%20short_link,%20title,%20and%20notes%20parameters%20should%20be%20URL-encoded,%20plain%20text,%20no%20HTML,%20UTF-8.%20You%20can%20not%20include%20a%20parameter%20value%20in%20the%20request%20that%20has%20'&',%20'?',%20'#',%20'%20',%20or%20other%20reserved%20parameters%20without%20first%20encoding%20it.
%20
Parameters%20should%20not%20contain%20spaces:%20any%20parameter%20with%20spaces%20will%20be%20rejected.%20All%20spaces%20should%20be%20either%20percent%20encoded%20(%20)%20or%20plus%20encoded%20(+).%20Note%20that%20tabs,%20newlines%20and%20trailing%20spaces%20are%20all%20indications%20of%20errors.%20Please%20remember%20to%20strip%20leading%20and%20trailing%20whitespace%20from%20any%20user%20input%20before%20posting.
%20
Parameters%20must%20have%20a%20slash%20between%20the%20domain%20and%20the%20path%20component.%20For%20example,%20http://example.com?query=parameter%20is%20invalid,%20and%20instead%20should%20be%20formatted%20as%20http://example.com/?query=parameter
%20
link%20parameter%20value%20should%20be%20a%20complete%20URL%20and%20not%20a%20shortened%20link%20(like%20a%20bit.ly%20short%20link).%20You%20should%20always%20pass%20shortened%20links%20(ex.%20you%20may%20want%20to%20do%20this%20for%20Twitter)%20through%20the%20short_link%20parameter.
%20

%20

Link%20Tracking%20&%20URL%20Shorteners

%20

Shareaholic%20can%20automatically%20shorten%20the%20link%20for%20you%20using%20a%20supported%20shortening%20service%20that%20you%20specify.%20

...&shortener=google...

%20

We%20currently%20support%20the%20following%20shorteners/parameter%20values:

%20

%20

| Shortener | Description |
| --- | --- |
| google%20 | %20 |
| tinyurl | |
| bitly | |
| jmp | |
| shrlc | Default |
| none | Do%20not%20shorten%20link |

%20%20

You%20can%20further%20customize%20this%20option%20with%20your%20own%20bit.ly%20or%20j.mp%20account%20if%20you'd%20like%20by%20passing%20the%20shortener_key%20parameter.%20If%20you%20pass%20this,%20the%20API%20will%20use%20your%20key%20to%20shorten%20the%20link.

%20

...&shortener=bitly&shortener_key=shareaholic|R_83932e4c5d02d1f94aea0f40fbc557ec&...

%20

shortener_key%20format:%20username|apikey%20(i.e.%20delimited%20by%20"|").%20For%20su.pr,%20you%20just%20need%20to%20pass%20your%20apikey.

%20

Note%20that%20this%20setting%20will%20only%20shorten%20links%20for%20services%20where%20it%20is%20appropriate%20(i.e.%20sharing%20to%20Twitter,%20but%20not%20bookmarking%20in%20Google%20Bookmarks%20or%20Delicious).

%20

Templates%20i.e.%20customize%20your%20Tweets

%20

By%20specifying%20the%20template%20API%20parameter,%20you%20can%20customize%20the%20default%20post%20format%20for%20services%20that%20support%20templates.%20Specifying%20a%20template%20is%20completely%20optional.%20The%20following%20services%20currently%20support%20templates:

%20

%20

The%20Share%20API%20supports%20a%20few%20different%20tokens%20in%20a%20template%20—%20you%20can%20use%20all,%20some,%20or%20none%20of%20them:

%20

%20

| Template%20Token | Description |
| --- | --- |
| ${title}%20 | Title%20of%20the%20page%20 |
| ${link} | Link%20to%20the%20page |
| ${short_link} | Short%20link%20that%20you%20pass%20to%20the%20Share%20API |
| ${notes} | Any%20text;%20usually%20a%20very%20short%20summary%20of%20the%20link%20or%20user%20selected%20text |

%20%20

Sample%20template%20for%20Twitter:

%20

...&template=Reading:%20${title}%20(${short_link})%20via%20@Shareaholic%20%23api%20%23devtools&...

%20

Result:

%20

%20%20

%20

Give%20it%20a%20try:%20Tweet%20this!%20

%20

Tags%20(describe%20your%20content)

%20

Use%20the%20optional%20tags%20API%20parameter%20to%20further%20describe%20the%20content/URL%20being%20shared.%20Amongst%20many%20other%20benefits,%20you%20will%20get%20back%20more%20useful%20analytics%20tracking%20reports%20as%20a%20result.

%20

tags%20takes%20a%20set%20of%20comma-separated%20values%20(CSV)%20with%20no%20trailing%20comma.%20Commas%20inside%20tag%20values%20MUST%20be%20URL%20encoded%20(as%20%2C)%20and%20commas%20separating%20tags%20MUST%20NOT%20be%20encoded.%20For%20example,%20the%20tags%20"python",%20"conference"%20and%20"Boston,%20MA"%20should%20be%20passed%20as:

%20

...&tags=python,conference,boston%2Cma&...

%20

You%20can%20pass%20in%20as%20many%20tags%20as%20you'd%20like,%20but%20we've%20found%203-5%20to%20be%20most%20optimal.

%20

Destination%20Service%20Codes

%20

Popular%20Services:%20

| Service | Service%20Code%20ID |
| --- | --- |
| Facebook%20 | 5%20 |
| Twitter | 7 |
| Pinterest | 309 |
| LinkedIn | 88 |
| Google%20Bookmarks | 74 |
| Google%20Mail | 52 |
| PrintFriendly | 236 |
| Yahoo!%20Mail | 54 |

%20%20

All%20Services:%20

| Service | Service%20Code%20ID |
| --- | --- |
| AIM%20 | 50%20 |
| Allvoices | 63 |
| Amazon%20(CA)%20Wish%20List | 271 |
| Amazon%20(DE)%20Wish%20List | 272 |
| Amazon%20(FR)%20Wish%20List | 273 |
| Amazon%20(JP)%20Wish%20List | 274 |
| Amazon%20(UK)%20Wish%20List | 270 |
| Amazon%20(US)%20Wish%20List | 200 |
| AOL%20Mail | 55 |
| Arto | 194 |
| Ask.com%20MyStuff | 91 |
| AttentionMeter | 221 |
| Backflip | 97 |
| Balatarin | 241 |
| Bebo | 196 |
| BibSonomy | 25 |
| Bit.ly | 208 |
| Bitty%20Browser | 108 |
| Blinklist | 48 |
| Blogger%20Post | 219 |
| BlogMarks | 27 |
| BobrDobr | 266 |
| Bookmarks.fr | 35 |
| Box.net | 240 |
| BuddyMarks | 90 |
| Buzzster | 1 |
| Care2%20News | 104 |
| CiteULike | 13 |
| Clicky.me | 248 |
| Connotea | 96 |
| Current | 80 |
| DailyMe | 237 |
| Delicious | 2 |
| Design%20Float | 106 |
| Digg | 3 |
| Digg%20Bar | 224 |
| Diglog | 72 |
| diHITT | 244 |
| Diigo | 24 |
| Dwellicious | 251 |
| DZone | 102 |
| Email%20This | 313 |
| Evernote | 191 |
| Expression | 186 |
| Facebook | 5 |
| Fark | 62 |
| Faves | 49 |
| Favoriten | 242 |
| Feedmarker%20Bookmarks | 69 |
| Folkd | 197 |
| Followup.cc | 235 |
| FriendFeed | 43 |
| FunP | 17 |
| Furl | 11 |
| Gabbr | 183 |
| Global%20Grind | 89 |
| Google%20Apps%20Mail | 260 |
| Google%20Bookmarks | 74 |
| Google%20Mail | 52 |
| Google%20Plus%20+1 | 304 |
| Google%20Sidewiki | 275 |
| Google%20Translate | 252 |
| Google%20Wave | 262 |
| Gravee | 95 |
| Hatena | 246 |
| HelloTxt | 81 |
| Hemidemi | 16 |
| HootSuite | 261 |
| Hotmail | 53 |
| Hub.tm | 234 |
| Hugg | 71 |
| Hyves | 105 |
| Identi.ca | 205 |
| Imera%20Brazil | 65 |
| Instapaper | 18 |
| Is.gd | 228 |
| iZeby | 263 |
| j.mp | 249 |
| Jamespot | 64 |
| Jumptags | 14 |
| Khabbr | 31 |
| Kledy | 30 |
| LinkaGoGo | 67 |
| Linkatopia | 85 |
| LinkedIn | 88 |
| LiveJournal | 79 |
| Ma.gnolia | 23 |
| Mail | 201 |
| Maple | 93 |
| Memori.ru | 269 |
| MenŽame | 33 |
| MindBodyGreen | 68 |
| Mister-Wong | 6 |
| Mixx | 4 |
| Moemesto | 268 |
| Mozillaca | 231 |
| MSDN | 184 |
| Multiply | 42 |
| MyLinkVault | 98 |
| MySpace | 39 |
| Netlog | 8 |
| Netvibes%20Share | 195 |
| Netvouz | 21 |
| NewsTrust | 199 |
| NewsVine | 41 |
| Ning | 264 |
| NowPublic | 75 |
| NUjij | 238 |
| Oknotizie | 243 |
| Oneview | 84 |
| Orkut | 247 |
| PhoneFavs | 19 |
| Pinboard.in | 256 |
| Ping | 45 |
| Pinterest | 309 |
| Plaxo%20Pulse | 44 |
| Plurk | 218 |
| Posterous | 210 |
| PrintFriendly | 236 |
| Propeller | 77 |
| Protopage%20Bookmarks | 47 |
| Pusha | 59 |
| Read%20It%20Later | 239 |
| ReadWriteWeb | 250 |
| Reddit | 40 |
| Segnalo | 58 |
| Shoutwire | 12 |
| Simpy | 86 |
| SiteJot | 99 |
| Slashdot | 61 |
| SmakNews | 206 |
| Soup.io | 217 |
| Sphere | 107 |
| Sphinn | 100 |
| SpringPad | 265 |
| Spurl | 82 |
| Squidoo | 46 |
| StartAid | 29 |
| Strands | 190 |
| Streakr | 215 |
| StumbleUpon | 38 |
| Stumpedia | 192 |
| Su.pr | 232 |
| Svejo | 245 |
| Symbaloo%20Feeds | 103 |
| Taggly | 26 |
| Tagza | 187 |
| Tailrank | 28 |
| Techmeme | 204 |
| TechNet | 185 |
| Technorati%20Favorites | 10 |
| Technotizie | 36 |
| TinyURL | 223 |
| Tipd | 188 |
| Tr.im | 214 |
| Truemors | 203 |
| Tumblr | 78 |
| Tweetie | 226 |
| Twiddla | 66 |
| Twine | 216 |
| Twitter | 7 |
| TypePad%20Post | 220 |
| unalog | 70 |
| Viadeo | 92 |
| VodPod | 198 |
| Webnews | 57 |
| Windows%20Live%20Favorites | 37 |
| Windows%20Live%20Spaces | 15 |
| Wink | 22 |
| Wists | 94 |
| WordPress | 230 |
| Xerpi | 20 |
| Yahoo%20Bookmarks | 76 |
| Yahoo%20Buzz | 73 |
| Yahoo%20Buzz%20India | 254 |
| Yahoo%20Messenger | 87 |
| Yahoo!%20Mail | 54 |
| Yammer | 253 |
| Yample | 83 |
| Yandex | 267 |
| YC%20Hacker%20News | 202 |
| YiGG | 56 |
| Yoolink | 34 |
| YouMob | 60 |

%20%20

Feedback

%20

If%20you%20believe%20you%20have%20found%20a%20bug,%20or%20you'd%20like%20to%20request%20additional%20functionality,%20or%20you%20release%20something%20using%20this%20API,%20we'd%20love%20to%20hear%20from%20you.

%20

%20

%20

%20

%20%20

%20%20%20